HOOOO AM I?
This'll be my first ever HOO ARE YOU response-post answering this week's questions: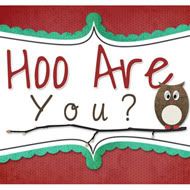 1. Do you sleep with the tv or music on?
Not really. I prefer pin-drop silence when I'm sleeping. Music for some reason induces so many thought processes in my head that I can no longer focus on sleeping.
2. What is your favorite technology device that you own?
None. I'm not a technology-driven person. This coming from a Computer Science undergraduate should be a topic of concern (dammit), but I really just use technology to meet my daily requirements, and our attachment ends there.
3. Do you shop the ads for groceries?
Hahah no, I don't do groceries, just as yet.
4. What are you favorite pair of shoes?
Oh I have these pair of black court shoes which I absolutely adore! They're decent, neat and a perfect fit for almost any occasion!
5. Have you done any fun fall activities yet?
Nothing fall-specific yet, although I am looking forward to Halloween, my friends and I have a couple of fun activities (read: epic all-night clubbing) planned around that time.
Do visit the link above and leave a link to your post answering these questions, so we're all a little less of strangers! :)
*Have a fabulous week ahead*